Mr. Manohar Thairani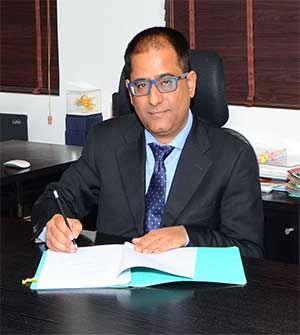 Mr. Thairani is a Chartered Accountant with a diverse and extensive experience of over 25 years in the fields of Business and Management. An industry professional, who was equally passionate about advancing the cause of education, saw a gap in the current education system for an institute that could engender industry ready professionals. He launched the Lloyd Group with a focus on embodying management principles, practices and politesse in the curriculum to ensure that a graduating student had the confidence to face the dynamic and demanding Indian industry.
From the Founder's Desk
"The essence of true education is not only to facilitate the students with tools to attain success in life but also to engrain values in them."
We, at Lloyd, work to incorporate the principles of modesty, compassion coupled with idea to effectuate innovation, growth and excellence. The curriculum of the program is industry oriented. Academic rigor is reflected in the course design and delivery of this program.
Various pedagogic tools help our students develop not only a holistic business perspective but an ability to seize opportunities in a competitive business environment. At the same time, they remain committed towards the betterment of the society.
LIMT is supported by state-of-the-Art Infrastructure and coupled with industry-oriented curriculum based on real life practical training. Academic rigor is reflected in the course design, delivery of academics and dedicated team of faculty members, equipped with right mix of industry-academic-research experience. Members of faculty are involved in their pursuit of developing and disseminating knowledge through teaching, research and consulting. LIMT welcomes you to join us to realize your full potential under our able guidance.