Teaching Pedagogy
Lloyd believes in creating learning opportunities based on the concept of 'Experiential learning' wherein a blend of case studies, role plays and practical exercises are used in tandem with theoretical discussions. With ICT based teaching methodology and tech-enabled classrooms, our students have the best possible resources that lay the foundation for generating a collaborative learning environment.
The institute follows a specific teaching methodology to reinforce student learning - BASE. Following the learning curve of students from the moment they enroll in the institute; the first keystone of their careers is laid down - transference of Basic Principles of Management. The first two trimesters ensure that students, no matter which background they come from, gain an equal footing in terms of academic knowledge of the field.
The second keystone, Application of Principles is emphasized on from the third trimester onwards. Students now learn how, when, where and which principles to apply in various situations Managers face in their careers. Also, to start preparing students for corporate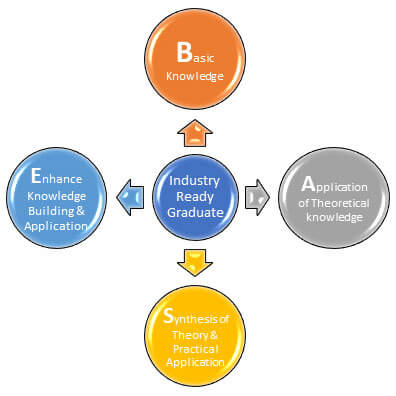 employability, student grooming is initiated to focus on oral and written communication as well as business etiquettes.
The third step, Synthesis follows the continual strengthening of students' ability to retain and apply theoretical knowledge in real- life situations. Pedagogical tools like case studies and role plays are employed by faculty members in the third and fourth semesters to boost students' ability and build their critical thinking, decision making and cognitive abilities.
The fourth step in preparation of an industry ready graduate is Enhancement.
Holistic Development
Lloyd Business School believes in a holistic, all-round development of students to prepare them for a dynamic role in the industry. Multiple workshops are conducted to familiarize students with MS Office tools such as MS Excel and PowerPoint. Debate competitions, Extempore, Mock Group Discussions and Personal Interviews are conducted frequently to impart confidence, communication prowess and intuitive cognitive abilities to our students.
Interactive learning is one of the key principles at Lloyd and students are encouraged to continuously update their knowledge on Current affairs, National and International business environments so as to participate in the learning process by interacting with faculty members, invited Industry Guests and Mentors.
Students' Professional Development
Our signature 'Student Transformation Program' focuses on Personality Development and Professional Grooming for our students. External Visiting Faculty from eminent organizations in the Image Management and Personality Development sectors hold regular interactive sessions for Lloyd students, spread over 20 hours in each semester, to groom them in professional etiquettes, public speaking, and corporate communication.