Prof. (Dr) Vandana Arora Sethi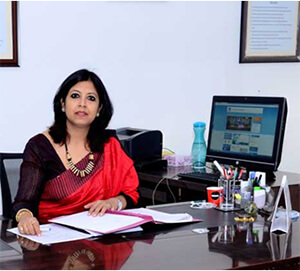 Dr Vandana Arora Sethi is a Gold-medalist from Delhi University in M. Pharm. and holds a Ph.D. in Pharmaceutics with work experience of more than 15 years, including industrial experience at Ranbaxy Research Laboratories, Gurgaon and at Smart Analyst Inc., Gurgaon.
Currently working at Lloyd Institute of Management & Technology, Greater Noida as Group Director.
She is confident, self-motivated, target-oriented and innovative with a zest for accomplishing the tasks with sincerity & dedication and result oriented.
Dr. Vandana is emphatically motivated, self-starting, versatile and strongly committed to progressive and innovative methodologies. Has a sharp & analytical mind, ability to see end to end keeping organization goals in mind, ability to evaluate and effectively focus on right target, strong communication & intra personal skills. She has a track record of achieving results consistently, has received several recognitions and team excellence appreciation awards from the various organizations.
Leading Lloyd the right way and keepings students first from the last 12 years at Lloyd, Dr Vandana is determined to take Lloyd to new heights and see that each Lloydian is an achiever.
From Her Desk
We, at Lloyd, are driven by the belief that every child deserves a high-quality education. And in today's generation where there is an intersection of great challenge & great opportunity, especially in the dynamic world of corporate, we need to think "out-of-the-box" and provide only the best to our students.
Since its inception more than a decade ago, Lloyd has remained a place of innovation and excellence in management education. As the needs of society and profession have changed, the institute has also evolved and continues to bring about positive changes to prepare future managers for an expanded sole in the business world. Consistently amongst the top-ranked private schools of management, Lloyd continues to be an innovative force in management education to meet the needs of an ever - changing world.
Presently, we offer Master of Business Administration (MBA) in specializations like Finance, Marketing, HR, & IT and Lloyd is the only private institute of management which follows a 360- degree approach, giving students opportunity for an all-around development, a rich professional & social atmosphere, space and technical support to develop innovations and immense guidance from faculty, hence opening the doors for many opportunities after graduation.
Our main forte lies in our links & collaborations with the industry. We believe more in practical application rather than just a theoretical understanding. Not only the students, but also the faculty undergoes practical refresher training session in the industry on a regular basis.
Lloyd provides an exciting and engaging environment for students to pursue their studies as well as engage in activities that will make them successful human beings.
I give my blessings and wishes for a successful and fulfilling life to all my students.
To the alumni- you have been our torch bearers, carry the light of Lloyd high and bright. Sky is the limit for all of you.
To the students wishing to join us for Management education- may the Almighty show you the right path to choose the right career.
To the visitors of our website - Have an informative browsing experience. Feel free to contact us for any query.
Regards and blessings to all,
Prof. (Dr) Vandana Arora Sethi
Group Director,
Lloyd Group of Institutions.