Dr. Shivani Kapoor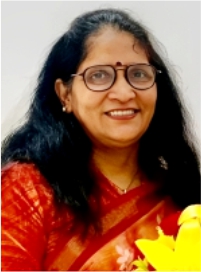 Dear Members of the Lloyd Community
Greetings to all!
It is my pleasure to welcome you to our home—a place of boundless knowledge, exploration, and growth.
Our institute has long stood as a beacon of excellence in education, and we take great pride in nurturing the talents and aspirations of our students. With a legacy of academic brilliance and a commitment to innovation, we strive to provide an exceptional learning environment that empowers individuals to realize their full potential.
At Lloyd Institute of Management and Technology, we believe that education is not confined to the boundaries of textbooks. It is an immersive experience that encompasses the exchange of ideas, the pursuit of wisdom, and the cultivation of values. As we embrace diversity in all its forms, we celebrate the richness it brings to our community, fostering an inclusive atmosphere where every voice finds meaning and purpose.
We take immense pride in our diverse student body, representing various backgrounds and cultures. This diversity enriches our community and prepares our students to thrive in an interconnected world. We emphasize holistic development, ensuring that students not only excel academically but also develop strong character and leadership qualities.
Research and innovation are at the heart of our institute's pursuit of knowledge. Our scholars and researchers actively contribute to advancements in their respective fields, addressing real-world challenges and making a positive impact on society.
Our mission goes beyond merely preparing graduates for current job opportunities. We strive to instill lifelong learning skills that will empower our students to navigate the futuristic corporate world and embrace entrepreneurship. To achieve this, we work closely with business leaders, regulators, local bodies, and statutory organizations, ensuring that the education we impart is relevant and contemporary
To our alumni, we are proud of your accomplishments, and we celebrate your success as an integral part of our institute's legacy. Your achievements inspire current and future students to reach for the stars.
Our distinguished faculty members are not just educators but mentors, guiding students on a journey of intellectual discovery. Alongside an unwavering dedication to teaching, our faculty engages in cutting-edge research, pushing the boundaries of knowledge and contributing to the advancement of their respective fields.
As the world continues to evolve, we remain committed to staying at the forefront of educational practices and technology. As we embrace the digital age, we harness technology to enhance learning methodologies, making education accessible to all. While scientific and technological advancements are essential, we firmly believe that education should enrich character and develop moral values and intellectual integrity. .Our state-of-the-art facilities and resources empower our students to thrive in a rapidly evolving world by providing an ideal setting for collaborative learning and exploration. At Lloyd institute of Management and Technology , we emphasize critical thinking, informed decision-making, social confidence, and leadership qualities in our students. We believe that these qualities are equally vital for the welfare of mankind and the holistic development of individuals
The success of Lloyd Institute of management and Technology lies in the collective efforts of our alumni, faculty, staff, students, and all members of our community. Together, we form a family that supports, uplifts, and inspires one another to achieve greatness.
As we forge ahead, we remain committed to excellence, constantly striving to enhance the educational experience for our students and to foster a nurturing environment that instills values of integrity, empathy, and social responsibility.
Thank you for being a part of the LLoyd community. Together, let us illuminate the path of knowledge and embrace the transformative power of education.
With warmest regards,
Dr. Shivani Kapoor
Director
LLoyd Institute of Management and Technology